Book Karen for speaking and podcast interviews
To book Karen to speak at your event or podcast interview, please contact us for details.
Karen is a TEDx speaker and regularly speaks at business networking groups and conferences on topics such 'Why your business needs a book' and her signature podcast interview is 'Becoming An Authority: How to write a business building book that will attract opportunities, bring in high-value clients desperate to work with you and give you expert-status in your marketplace'.
You can see some of Karen's speaking events and podcast recordings, and watch her TEDx below.
May 2022, The Can Do Way podcast interview
March 2022, The Author's Leverage podcast interview 'How to Self-Fund Your Books'
February 2022, Conversations with Authors podcast interview
November 2021, speaker at The Book Academy for Business - Growth Conference
September 2021, speaker at GROW Live 2021
July 2021, speaker on the Business Mastermind programme with Ian Dickson
June 2021, Find, Tell, Share podcast interview
May 2021, System to Thrive podcast interview
May 2021 - The Grow Show podcast interview
May 2021 - Make Your Difference podcast interview
14 April 2021 - Connect Like A Boss Guest Speaker
31 March 2021 - Page Turner webinar 'Becoming An Authority'
March 2021 - Share your Story Writers Summit
March 2021, Sharkpreneur podcast interview
February 2021, Funky radio interview
January - April 2021, 4Sights for the 4Networking community.
Coaching Community - 6 January, Saturday Spark - 16 January, Norfolk and Suffolk - 18 January, Introverts - 26 January, Leicester - 28 January, Leamington - 9 February, Ethical - 10 February, Property - 1 March, Garden of Eden- 30 March, For the Love of Food - 31 March, Portsmouth - 9 April, Notts - 23 July
14 January, Telling Stories: Making Business
December 2020, The Zo Show
November 2020, Livewire TV
October 2020, Interview with Andreas Nest, Action Coach - part one and part two2
October 2020, Mastermind Growth Podcast
September 2020, The Smart Author interview with Steve Judge
September 2020, Speaker at the Sparkle On Con
September 2020, The Power to Live MORE Podcast
June 2020, WealthTalk Podcast, How To Write A Book That Supports Your Business
May 2020, Lightworkers' Lunch, online via Zoom
March 2020, The ALLi Self-publishing Advice Online Conference: Nonfiction Book Income Streams: How to Earn More Than Just Royalties
February 2020, Get Real About Business Podcast: How to be an Authority in Your Industry by Becoming an Author
December 2019, The Extraordinary Business Book Club podcast Episode 197 - Audio First
December 2019, The Slumbering Sloths Book Nook Podcast A conversation with Karen Williams
December 2019, Author to Authority Podcast What to do before writing your book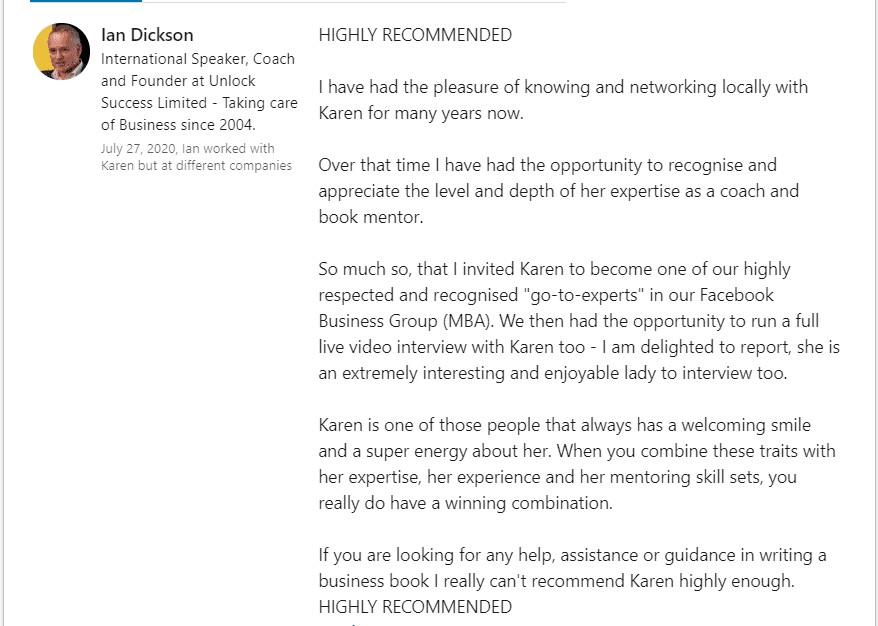 "Karen Williams was a speaker for us in October 2019. She started by telling us how she got onto the path of becoming a book mentor, it was obvious Karen has found her soul purpose.
She spoke passionately about the different books she has written and helped people write. I really had no idea of how far reaching her expertise goes. With Karen's years of work in this field her knowledge was obvious. Karen then asked for questions from the audience as to how she might help them with their book writing journey and that filled the whole flip chart page.
Karen then went on to not only answer each question asked but wove into the presentation all that she wanted to share with us about producing a best selling book. It really was one of those evening that you talk about for a good while after, so much content and food for thought. The feedback from her evening was so positive. I would highly recommend Karen as a book mentor or speaker for any presentations".
Jackie White, Inspirations Positive Living Group in Southampton
"Karen recently presented a fascinating session with my group of Spiritual Lightworkers, over a working lunch on Zoom.
I was initially unsure how this would work, as I'm more used to traditional conferences. However, I needn't have worried; Karen was amazing and held the audience with spontaneity and humour.
The information was openly given and very relatable to all present. I believe many were inspired to start or continue their writing career. The amount of interaction and questions showed how truly engaged we were, and I think everyone took valuable tools away with them.
I would highly recommend Karen as a speaker, her style is relaxed, informal and very professional. Thank you Karen".
Sheela Hagan, Lightworkers Lunch, 2020
November 2019, Biz People Podcast Becoming An Authority
November 2019, Winchester People Management Breakfast
November 2019, Rainbow Positive Living Group, Lee-on-Solent
November 2019, The Author's Journey Networking event, Portsmouth
October 2019, Inspirations Positive Living Group, Southampton
August 2019, Women's Business Club meeting, Swindon
July 2019, The School of Marketing, London
June 2019, Women's Business Club meeting, Cheltenham
May 2019, SHEnetWORKS, Henley-upon-Thames
May 2019, Go To Expert Interview with Ian Dickson (Facebook Live)
December 2017, Top Tips for Writing a Book to Build your Business Interview with Ann Brown, Happy Being You In Business
November 2017, Wealthy Business Goddess Podcast with Kimberley Lovell
October 2017, TEDx Chichester
July 2017, Entrepreneurs Inner Game Podcast with Nina Cooke
July 2017, Get Real About Business Podcast with Clive Maloney
July 2016, Podcast interview 'Finding the Hook' with Alison Jones, The Extraordinary Book Club